We are campaigning to reform the UK's gambling laws to reduce gambling-related suicides.
The current legislation – the 2005 Gambling Act – liberalised the regulation of gambling, which has led to a substantial increase in gambling-related harm.
What policymakers failed to foresee in 2005 was the almost universal adoption of the smartphone and other devices which enabled gambling 24/7 whenever and wherever the gambler wanted, totally unsupervised.
Our campaign
Gambling with Lives families have campaigned hard for much-needed reform, introducing suicide to the debate. Previously the focus was largely on financial loss and often neglected the far more serious and widespread impacts on people's mental health as well as on their family, relationships, and the wider community. We challenged the stereotype that people addicted to gambling were somehow weak, flawed or vulnerable individuals: our experiences showed that anyone could be at risk.
45%
addiction/at-risk rate for online slot games
Our campaign highlights the huge role dangerous products play in addiction and pushes to make them safer. Different forms of gambling carry different levels of addiction risk. A weekly bet on the National Lottery is less dangerous than playing on online slots, fixed-odds betting terminals (FOBTs) and "in-play" sports betting where bets can be placed quickly and frequently. All the loved ones lost by GwL families were exposed to highly addictive forms of gambling.
Working alongside gamblers in recovery and other campaigners, bereaved families helped secure the long-awaited review of the 2005 Gambling Act, announced in 2020.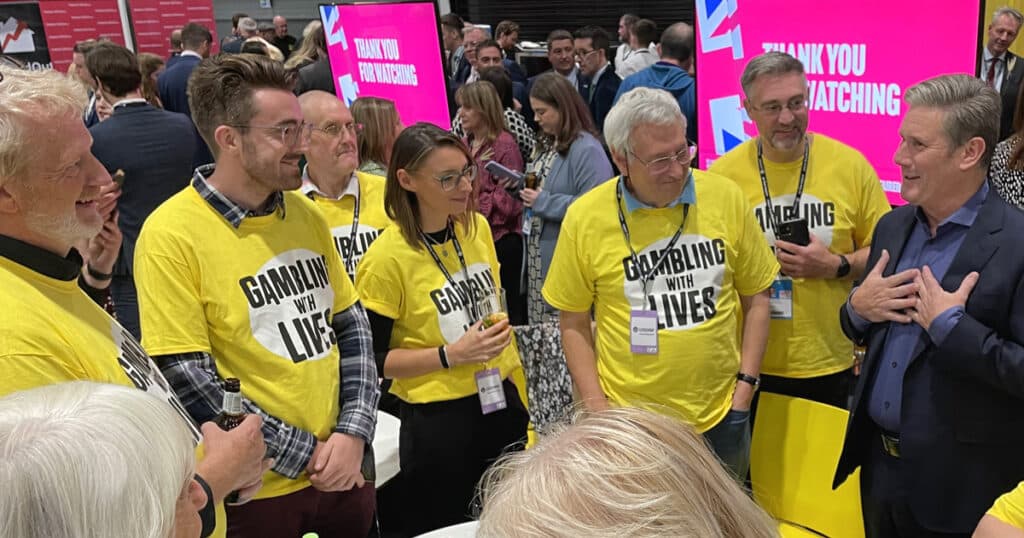 How we campaign
Since 2018, GwL families have met with hundreds of MPs, regulators and other organisations. We've also hosted three parliamentary events in the House of Commons, including in December 2021 which was attended by over 25 parliamentarians, and in March 2023, where Lucy Frazer KC MP gave her first speech on gambling since replacing Michelle Donelan as Culture Secretary the previous month.
We've written many letters to MPs and helped others to. If you'd like to write to your MP, please see this useful guide and do get in touch if you have any questions. We've also provided responses to Government consultations, organised petitions and collaborated with recovering gamblers and affected others.
Our families have also appeared on numerous high-profile television and radio programmes, as well as in prominent newspaper features. Recent media appearances include James Grimes and Judith Bruney on BBC Breakfast in March 2023, Liz and Charles Ritchie on BBC Breakfast in March 2022, Sadie and Peter Keogh on BBC Breakfast in December 2021 and several of our families appeared in Paul Merson's prime time BBC One documentary in October 2021, see the clip below.
Our demands
Gambling should be enshrined in law as a public health issue, and government should legislate accordingly. Those actions should include :
Dangerous products made safer, including slowing down speeds of play and stake limits
Stringent affordability checks enforced across operators
A statutory levy on gambling operators to pay for independent research, education, and treatment
An end to all gambling advertising, including sponsorship of sports
Every gambling-related suicide to be investigated and learned from
Classifications and licensing conditions for gambling products based on the harm they cause
An end to all VIP schemes and inducements to gamble such as "free bet" bonuses
Independent evidence-based public health messages about risks to life, health and wellbeing
The implementation of a comprehensive NHS prevention and treatment programme
Training for front line health and other support workers to recognise, diagnose, prevent and treat gambling disorder
An independent ombudsman to enforce gambling operators' duty of care
Gambling awareness education delivered in all schools, independently approved and delivered
How to get involved
Keep an eye on our homepage and social media channels to find out about our latest campaign. In the meantime, you can always: