Labour Party Conference attended by bereaved families calling for gambling reform
Families bereaved by gambling-related suicide attended the Labour Party Conference, which was held in Liverpool in September.
Families that attended include Charles and Liz Ritchie who lost their son Jack, Kay Wadsworth, who lost her daughter Kimberly, and John Myers, who lost his son Ryan, alongside other bereaved families who were keen to talk to MPs and Labour Party members.
The Labour Party already boasts some of the leading voices for gambling reform, notably Carolyn Harris MP, Gerald Jones MP, and Paul Blomfield MP, all of whom are prominent members of the All-Party Parliamentary Group on Gambling-Related Harm, and families are calling on the party to do more to take the lead on gambling reform.
Gambling with Lives is calling on the Labour Party to adopt a robust position on gambling reform that is consistent with an evidence-based approach to the gambling public health crisis engulfing the UK.
Gambling is severely impacting families across the UK, with up to 1.44 million people addicted and many millions more either at risk of addiction or harmed by someone else's gambling, resulting in over 400 deaths every year.
The review of the outdated 2005 Gambling Act began back in 2020, but the publication of its findings – the white paper – has been delayed several times now.
The families were calling for the whitepaper to include an end to all gambling advertising, a smart statutory levy on the gambling industry to pay for independent research, education, and treatment as well as proper public health messaging on just how harmful some addictive gambling products can be. They are also calling for dangerous gambling products – such as online casino and slot games – to be made safer by decreasing stake limits and play speeds and other design changes.
We are so grateful for the overwhelming support we received from hundreds of frontbenchers, MPs, journalists, councillors, and delegates who stopped to talk to our families about the urgent need for reform, including Labour Leader Sir Keir Starmer, Shadow Health Secretary Wes Streeting, and Shadow DCMS Secretary Lucy Powell.
Families also spoke with a wide range of other Labour figures including Jeremy Corbyn, Ed Miliband, Jess Phillips, Rebecca Long-Bailey, Mick Lynch, and Andy Burnham, together with journalists Robert Peston, Cathy Newman, and Owen Jones – the support for this issue continues to transcend political differences.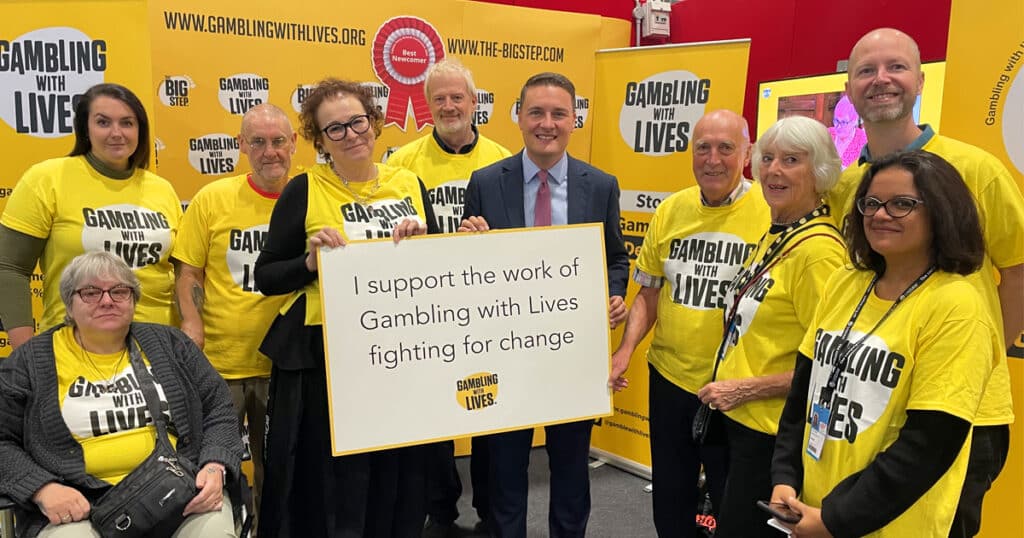 We were even awarded the "best newcomer" gong, so thanks to all of the Gambling with Lives team and special thanks to Emily Beck, our events manager, for organising such a successful event.
The families and Gambling with Lives staff were wearing bright yellow t-shirts with 409 on the back at the conference – a reference to the 2021 Public Health England report that estimated there are 409 gambling-related suicides every year in England alone.