Bereaved families attend Labour conference for second year
At this year's Labour conference bereaved families are calling on the party to recognise gambling as a health harm and commit to giving the Department of Health and Social Care (DHSC) a greater future role in its regulation. Currently, gambling is regulated by the Department of Culture, Media, and Sport (DCMS).
Families attending include Judith Bruney who lost her son Chris, Kay Wadsworth who lost her daughter Kimberly, and Gambling with Lives' co-founders, Charles and Liz Ritchie who lost their son Jack.
Earlier this week, the Labour Party sent out its policy programme, which will shape the next manifesto. Gambling is included:
"If the Conservatives continue to fail to update analogue gambling laws that are not designed for the digital age, the next Labour government will".
Up to 1.44 adults are addicted to gambling and many millions more are either at risk of addiction or harmed by someone else's gambling, which results in up to 496 deaths every year.
We'll be holding a fringe event at the Conference on Monday October "Gambling – A National Health Issue". Iconic football commentator Clive Tyldesley is hosting the event, which will feature an expert panel.
Earlier this year, the government announced a series of reform proposals in the long-awaited white paper, many of which have since gone to consultation. With a general election next year highly likely, it is crucial that Labour formulate a strong position on gambling.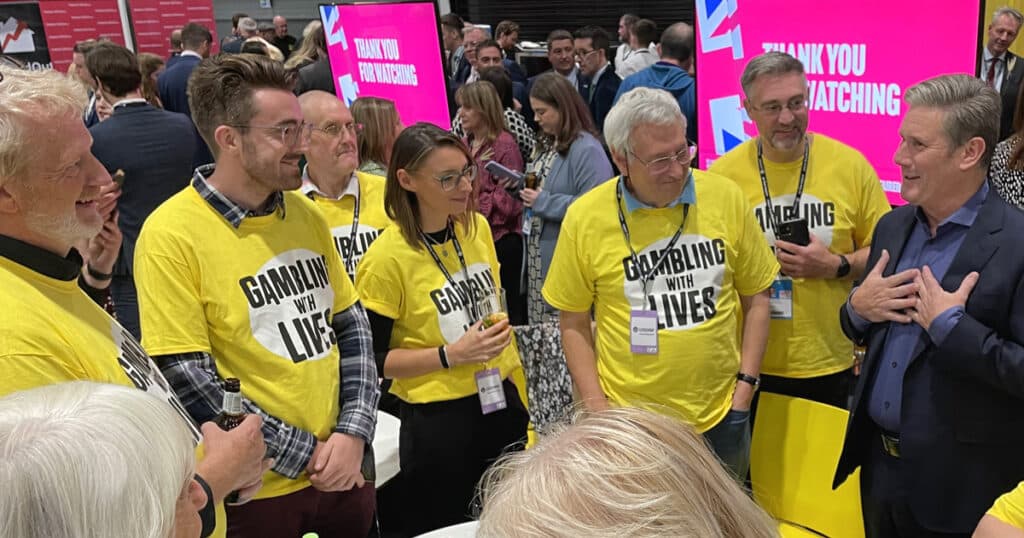 At last year's Conference, we were supported by hundreds of frontbenchers, MPs, journalists, councillors, and delegates, including Labour Leader Sir Keir Starmer, Shadow Health Secretary Wes Streeting and then Shadow DCMS Secretary Lucy Powell.
Our stand was also awarded the best newcomer award.